Three Immune-Boosting Lunches To Get You Through Winter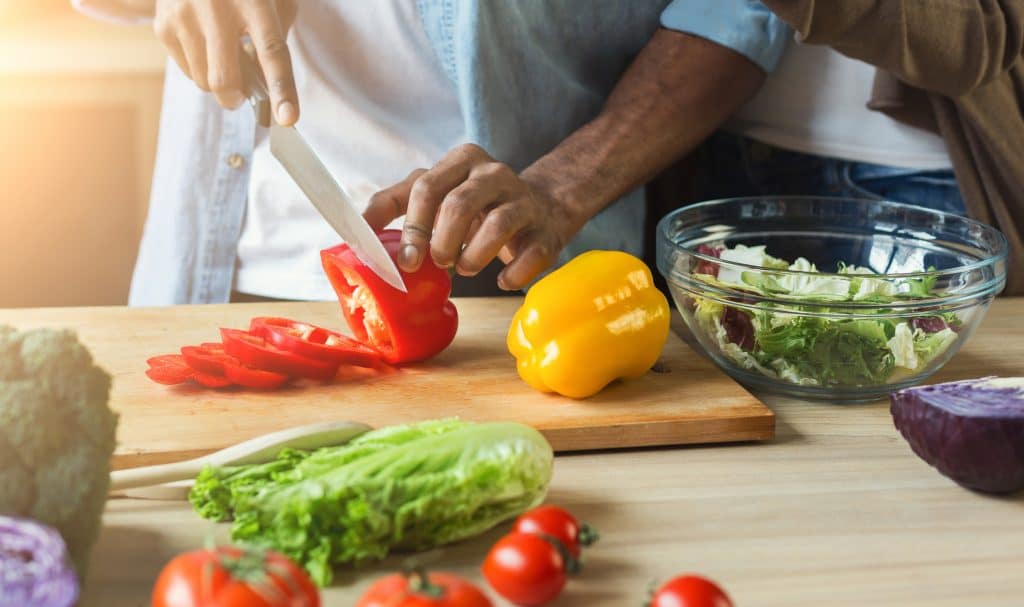 What could you have for lunch that will help boost your immune system? In the era of COVID-19, a strong immune system is vital. That's why we have put together our three favourite lunches that can help boost your immune system and get you through winter.

1. Stuffed Peppers With Cauliflower Rice

One medium red bell pepper contains more than two times the amount of vitamin C in an orange.

Serves: 2

Ingredients:

2 Red Bell Peppers
200g pouch of Cauliflower Rice
1 serving Nonstick Cooking Spray
6 oz Extra Lean Ground Turkey
1/4 tsp Salt & Black Pepper
1/2 cup Shredded Mozzarella Cheese
1/2 cup Tomato Sauce
1/4 cup Shredded Mozzarella Cheese (for topping)

Instructions

Preheat oven to 180C
Remove the top of each pepper. Remove seeds and membranes; rinse peppers. In a large pot, add enough water to cover peppers. Heat to boiling; add peppers. Cook for about 2 minutes; drain. Set peppers aside in an oven-safe casserole dish
Cook Cauliflower Rice according to packeted instructions.
Remove the rice from the packet and place it into a medium bowl, set aside. Spray a medium pan with nonstick cooking spray and place over medium heat. Add ground turkey and cook until done. Season with salt and pepper. Mixing as you go to break up the turkey.
Once the turkey is cooked through, remove from heat.
Combine ground turkey, rice, 1/2 cup mozzarella cheese and tomato sauce in one bowl. Mix to combine. Spoon half of the mixture into each bell pepper in a casserole dish.
Cover peppers tightly with foil and bake for 10 minutes. Uncover and bake for another 15 minutes or until peppers are tender.
Remove peppers from the oven and sprinkle with remaining cheese. Return to the oven and allow the cheese to melt.


2. Carrot-Ginger Immune-Boosting Soup

The two main spices, turmeric and ginger, contain compounds that are said to boost immune health.

Serves: 4-6

Ingredients

1 Tbsp olive oil
1 small yellow onion, diced
5 medium-sized carrots, diced into 1/2-inch rounds
thumb-sized piece ginger, finely chopped
1 tsp turmeric powder.
1/2 tsp Kosher salt
4 cups low-sodium vegetable broth
1 cup full-fat coconut milk
Freshly ground pepper

Instructions:

Heat a large pot over medium-high heat. Add olive oil, onion, and carrot and sauté for 5-7 minutes, until soft. Then add ginger and turmeric and sauté for another 1-2 minutes, until fragrant.
Add broth and salt. Bring to a boil and boil and then turn the heat down and simmer for 20 minutes to let the flavours meld and carrots get really soft.
Using an immersion blender, blend the soup until it's a smooth consistency. If you don't have an immersion blender, transfer the soup in batches to a blender or food processor and blend until smooth. Stir in coconut milk and season with freshly ground pepper.

Leftovers can be kept in the fridge for 3-5 days.


3. Kale, Tangerine, Pumpkin Seed Salad

This salad includes fresh tangerines and swaps in tangerine juice in the vinaigrette for an extra dose of immune-supporting vitamin C

Serves: 4

Ingredients

200g of kale, de-stemmed and shredded
1 tbsp extra virgin olive oil
2 tangerines, peeled and segmented
¼ cup pumpkin seeds
coarse salt and fresh cracked black pepper to taste

Tangerine Vinaigrette

2 tbsp extra virgin olive oil
2 tbsp freshly squeezed tangerine juice
1 tbsp apple cider vinegar
1 tbsp honey
coarse salt and fresh cracked black pepper to taste

Instructions

Add the shredded kale plus 1 tbsp olive oil to a large bowl. Massage (or knead) with your hands until the kale develops a vibrant green colour and feels softer, about 3-5 minutes (this step is not required for the baby kale).
Add the vinaigrette ingredients to a jar. Shake until combined. Set aside.
Toss the massaged or baby kale with the tangerine vinaigrette and top with tangerine segments and pumpkin seeds and a sprinkle of salt and pepper. Pair with crispy or roasted tofu, broiled salmon, or grilled chicken for a complete meal.