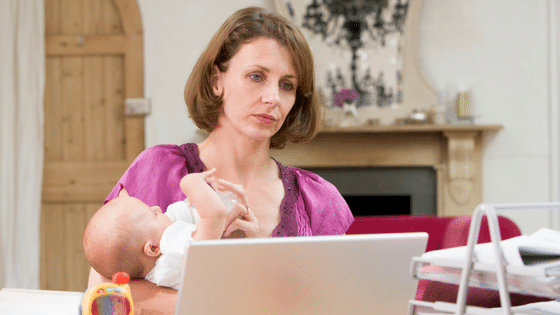 Self-employed new mums are suffering in silence, and we need your help to stop it. Sign the petition here:
A group of our own fantastic GPs have launched a campaign for fairer maternity pay for self-employed mothers, after witnessing first-hand the 'silent suffering' that exists behind closed doors during the first six weeks of becoming a mum who runs a business.
The shocking facts in the UK
Self-employed women receive less maternity pay than their employed equivalents. They receive the same government (state) maternity allowance as people who are employed by a company, however, they do not receive the first 6 weeks of 90% of their annual weekly salary, as employed people do.
The impact of this lack of income during such a crucial time sets self-employed new mums up to fail, with many admitting to considering closing their business or being too embarrassed to ask for help for fear of admitting defeat. Too many are suffering in silence as they try to work through the issues.
This situation is also a deterrent to starting a business, for females of child-bearing age – In 2015, 126,000 businesses were created by women – down from the 139,000 in 2013.
Campaign for equality in maternity pay, to prevent mental health issues
The 'Six Week Support' campaign will lobby government for the equivalent financial support that an employed new mum receives, for self-employed mums during the first six weeks after having a baby. This financial support will make it more possible for mums to take time out of the business, to enjoy their new child, if only for a short time, before returning to full-time work.
This campaign aims to apply pressure on the government to review their maternity pay policy, as already requested by the Federation of Small Businesses who asked, as a result of their self-employed report: http://bit.ly/FSBREPORT for government 'to address the discrepancies between the self-employed and employees in the social security system'.
Feel passionate about this campaign, or want to tell your own personal story regarding this matter? Get in touch – laura@gpdq.co.uk.