Healthier Halloween Treats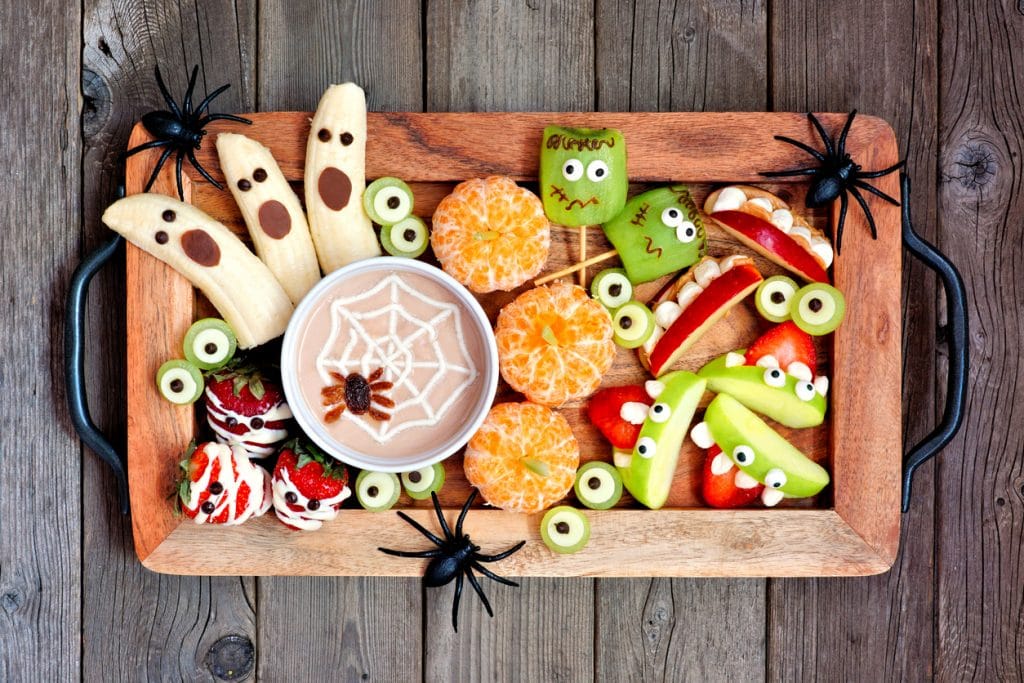 When someone uses the words "healthy" and "Halloween" together in a sentence, you probably have a flashback to that neighbour who passes out boxes of raisins instead of sweets to trick-or-treaters.

We have found tried and tested healthy Halloween treats you'll actually want to eat.

Pumpkin Muffins

INGREDIENTS
⅓ cup melted coconut oil or extra-virgin olive oil*
½ cup maple syrup or honey
2 eggs, at room temperature
1 cup pumpkin purée
¼ cup milk of choice (I used almond milk)
2 teaspoons pumpkin spice blend (or 1 teaspoon ground cinnamon, ½ teaspoon ground ginger, ¼ teaspoon ground nutmeg, and ¼ teaspoon ground allspice or cloves)
1 teaspoon baking soda
1 teaspoon vanilla extract
½ teaspoon salt
1 ¾ cups whole wheat flour**
⅓ cup old-fashioned oats, plus more for sprinkling on top
Optional: 2 teaspoons turbinado (raw) sugar for a sweet crunch

INSTRUCTIONS

– Preheat oven to 165 degrees Celsius. If necessary, grease all 12 cups of your muffin tin with butter or non-stick cooking spray.
– In a large bowl, beat the oil and maple syrup or honey together with a whisk. Add the eggs, and beat well. Add the pumpkin purée, milk, pumpkin spice blend, baking soda, vanilla extract and salt.
– Add the flour and oats to the bowl and mix with a large spoon, just until combined (a few lumps are ok). If you'd like to add any additional mix-ins***, like nuts, chocolate or dried fruit, fold them in now.
– Divide the batter evenly between the muffin cups. Sprinkle the tops of the muffins with about a tablespoon of oats, followed by a light sprinkle of raw sugar and/or pumpkin spice blend if you'd like. Bake muffins for 22 to 25 minutes, or until a toothpick inserted into a muffin comes out clean.
– Place the muffin tin on a cooling rack to cool. These muffins are delicate until they cool down. You might need to run a butter knife along the outer edge of the muffins to loosen them from the pan.
– These muffins taste even better after they have rested for a couple of hours! They'll keep at room temperature for up to 2 days, or in the refrigerator for up to 4 days. They keep well in the freezer in a freezer-safe bag for up to 3 months (just defrost individual muffins as needed).


Dairy Free Caramel Apples

INGREDIENTS
6 small apples
6 Popsicle sticks
1/3 cup butter
3/4 cup white sugar
3 Tablespoons of canned coconut milk
1/4 cup light corn syrup (this prevents re-crystallization of the sugar)
dash salt
2 teaspoons vanilla extract
Melted chocolate for drizzling; chopped chocolate, chopped nuts or seeds, sprinkles, etc.

INSTRUCTIONS

– Wash your apples and dry them thoroughly. Push popsicle sticks into the tops of the apples.
– Set the apples aside on a parchment-lined cookie sheet while you prepare the caramel.
– Melt the dairy-free butter in a small heavy-bottom saucepan over medium/low heat. I used Country Crock Plant Butter avocado oil sticks for this recipe.
– Once the butter is melted (which only takes a minute or 2), whisk in the white sugar, or canned coconut milk, corn syrup, and a dash of salt.
– Whisk together until mixed and bring mixture to a boil over medium/low heat, then boil for 7 minutes.
– Remove the caramel sauce from the heat and stir in the vanilla.
– Allow the sauce to cool for about 10-15 minutes to cool and thicken slightly but don't allow it to cool completely. You need to dip your apples while the caramel is still pretty warm, otherwise, it will thicken too much to dip or pour over your apples.
– Dip the apples in the caramel and use a spoon to scoop the warm caramel onto the apples.
– Place the dipped apples on the parchment-lined cookie sheet. While the caramel is still sticky, you can sprinkle chopped nuts or chocolate on it. Or wait for the chocolate to cool and drizzle chocolate on the dipped apples.
– Store the dipped apples in an airtight container or bag at room temperature for up to 3 days.


Classic Halloween Graveyard Cheesecake Bites

INGREDIENTS FOR BASE
1 1/2 cups crackers, chopped (Around 10 Crackers)
2 Tbsps organic brown sugar
1/4 tsp ground cinnamon
2 Tbsps Cacao powder
4 Tbsps unsalted butter, melted

INGREDIENTS FOR FILLING
12 ozs. cream cheese softened at room (That's 1 1/2 packs)
1/2 cup pure cane sugar
3 Tbsps organic all-purpose flour
2 tsp vanilla extract
2 large eggs, room temp. 3 Tbsps low-fat sour cream
2 tsp juice of a lemon
1/2 tsp Black gel food colouring
1 tsp Red gel food colouring
Black gel food colouring

INSTRUCTIONS

For the base:
– Preheat oven to 165 degrees celsius and prepare a 12-cavity cupcake pan with cupcake liners.
– Grind the crackers, until almost finely ground (it's OK to leave a few medium chunks if you're a lover of a little crunch!). Combine the cracker, cacao powder, pure cane sugar and melted butter in a small bowl and mix with a spatula until well incorporated.
– Divide the mixture between the cupcake liners (about 2 Tbsps per cup) and press down into the bottoms with your fingers to ensure that it's perfectly covering the bottom.
– Bake the crusts for about 5 minutes and then remove them from the oven and allow them cool until you're ready to use.
For the filling:
– In the bowl of an electric mixer, mix together on low speed: the cream cheese, pure cane sugar, and flour until combined. Be sure to scrape the sides and bottom of the bowl if needed.
– Next, add the vanilla extract and the first egg and beat slowly until mostly combined. Then add the remaining egg and mix until well combined, still mixing everything at low speed. Now, add the sour cream and lemon juice and continue mixing.
– Change mixer attachment to a whisk and beat on medium-high speed for 5 minutes or so until completely smooth and lump-free. Add in gel food colourings and continue mixing until well incorporated.
– Add a small amount of filling to each cupcake liner (about 2 Tbsps), repeating until all batter is used. Using a toothpick (lightly dipped in black gel colour), gently make swirls atop cheesecake batter. Repeat until all have been completed.
– Bake the cheesecakes for 20-25 minutes, then turn off the oven and allow them to sit in the oven for another 5 minutes with the oven door halfway open to avoid cheesecakes from deflating. **NOTE: When baking, I always prepare a medium pot with water and add it to the oven as well, to keep cheesecake temperature even and to add moisture.**
– Remove cheesecakes from the oven and allow them to continue to cool for another 15-20 minutes, before putting them in the refrigerator for at least an hour.
– Once fully cooled, serve with your favourite grooling Halloween decor and enjoy.

If you make any of these delicious treats be sure to tag us on Instagram at @GPDQUK and have a happy Halloween!